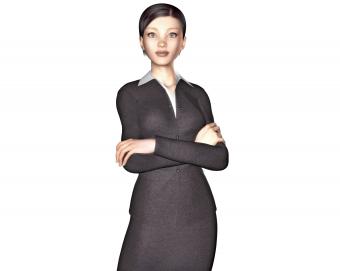 If not for use as an avatar in a game or forum or in an online business setting, why else would you want to build a virtual woman? Plenty of reasons. You can build your dream woman from scratch and then compete with or talk with her. You can even use your creation as part of your business' website.
What You Can Control
When you're building a virtual woman, you have control over almost everything in the early stages, such as:
Ethnicity
Geographic location
Body type
Hair color
Clothing
Personality
Knowledge of current events or your products, in the case of the business model
Her ability to say your name (Though you can't usually teach virtual women to say much else, they can still carry on conversations.)
Where to Build a Virtual Woman
Virtual Woman from CyberPunk Software seems to be the frontrunner when it comes to creating virtual women. If you're not interested in something so intense, you can visit some of the other options, as well.
Virtual Woman by CyberPunk Software
With Virtual Woman by CyberPunk Software, you can create almost any type of woman you'd like. She'll then be able to talk to the other virtual women as well as compete against them. Characteristics you'll have control over when you build a virtual woman with this software include personality, where she lives, ethnic type, what she wears, and more. You can download what you need right online. Once you make your choices and design the woman, you'll be presented with a 3-D character with artificial intelligence.
DAZ
DAZ allows you to create a realistic-looking virtual woman even if you're a beginner. Bonus? It's free! Click on the "Create Account" button at the top right of the DAZ page to sign up and get started. Then go to "3D Software" at the top, followed by "DAZ Studio" in the left-hand menu. A menu will appear below "DAZ Studio" where you can select "Download DAZ Studio." If you see other programs on the page, they're generally for purchase. You may want to go back and add those later. Choose whether you want the download for Windows or Mac, then click Run and follow the instructions from there. This program works well with Bryce, a landscape/scenery program from the same company that goes hand-in-hand with DAZ.
On the Business Side
While most programs that allow you to create a virtual person are designed for video game-like fun, there are some out there that allow you to build them for your website. Site Pal lets you create female avatars (as well as male ones) to act as a face for your website. There are four options: choose one of their standard characters, choose a specialty character, upload a digital photo that you can turn into a character on your own, or submit a picture for a professional to turn into a character. You can then give your character a scene and edit her artificial intelligence.
Warning about Building Virtual Women
There is some criticism surrounding the virtual woman phenomenon. Some fear that the realistic nature of the program, especially the ability for virtual women to carry on conversations and interact so well with humans, may lead to social isolation and severe distraction from daily responsibilities. much like an addiction. On the other hand, if people are homebound and crave "human" interaction, creating a virtual woman is one way to simulate that experience.
Join the Fun
According to CyberPunk Software, there are over one and a half million copies of their Virtual Woman program in existence. According to Agent Land, there are 840,000 different women you can create with the Virtual Woman program alone. That doesn't include the number you can create using other programs. Building virtual women is a widespread pastime among those who are Internet and computer savvy.
If you like virtual characters and virtual games, don't forget to review the following LoveToKnow Online articles as well.