Online Appointment Scheduling
Online client booking has become an enticing feature for both businesses and customers alike. Gone are the days of "no-shows" and forgotten appointments as clients can set reminders for themselves days or even hours before their scheduled times. Below are a few options to help you make the best decision for your business or personal needs.
Acuity Scheduling for Client Convenience
Acuity Scheduling allows clients to pay for and reschedule their appointments online. Once a client registers with Acuity, he or she can simply log in to view the provider's schedule and book an appointment. An email confirmation is sent the moment a client schedules, reschedules or cancels their appointment.
Acuity eases the job for business owners as well as their customers. Overbooked schedules become a thing of the past with Acuity, as scheduling options are clear, concise and recorded in real time. Acuity easily integrates with MailChimp, Google Analytics and QuickBooks too, so you can send out advertising campaigns and receive booking simultaneously.
Main Features of Actuity
The key features empower business owner and customer alike.
Real-time availability schedule
Detailed daily client itinerary
Branded and customized reminders and messages
Integrates seamlessly with Quickbooks
Customer Review
Katie Goetz uses the Acuity software at a non-profit to schedule spay/neuter surgery appointments and dog training classes. She is "wowed" by the many integrated payment features, which have reduced no-show rates by nearly 75%.
Competitive Pricing Structure
Acuity offers a pricing system for any business size. The Freebie option offers services for one business owner for no fee, while the Emerging Entrepreneur provides scheduling services for one person and a location. The Growing Business option is suited for medium sized businesses and offers the software for $19 per month. The Powerhouse Player option includes text messaging and other advanced features for $34 per month.
Let Appointy Manage Your Class Schedule
Grow and manage your business with the Appointy application. This software partners with Google to provide clients and business owners with the option of storing the data in their Google calendars for usability. This will also come in handy because Google Calendar has an embedded reminder feature to keep you on schedule.
Scheduling a class or an activity with Appointy requires an administrator login. Once the user has accessed their account, they can change the alias of the service to their class name. Users are given the option to add staff and dates for future classes. The client can then sign into the system and select the appropriate course.
Key Appointy Features
Regardless of the size of your business or the industry it is in, you can expect a wealth of functionality.
Integrated marketing tool to promote businesses and schedule appointments on social media
Customers can self-schedule their appointments from anywhere and at any time
Group scheduling capabilities
Payment processing
Recognized by PCWorld as an affordable scheduling solution
Customizable scheduling solutions for the following industries: Health and Wellness, Education, Salon and Beauty, Fitness, Pet Walkers, Day Care Centers, Tours, Government Offices, Volunteer Services
Positive Customer Experience
Janice Iwin, a "newbie" to entrepreneurship, was particularly impressed with Appointy's customer service. "It is all about the service for me."
Monthly Plans for Businesses
Like many other scheduling services, Appointy offers several pricing options for users ranging from Free to the Enterprise Plan. Each plan includes a price savings for annual contracts versus the monthly plan. The Medium Business Plan offers multiple staff sign-on and is the most popular plan available for $49.99 per month.
Never Miss a Salon Appointment with Vagaro
Vagaro is an online scheduling provider with the salon owner in mind. As a salon owner or provider, scheduling an appointment is simple and convenient.
Sign in to the Vagaro system and view your calendar, then select the date and time in which you would like to schedule your client. Input or select the client's name and service. Finally, select the time for the appointment and click "Add to Calendar." The customer will receive a confirmation message.
Customers can schedule their appointment via the convenient mobile app or through any social media channel.
Vagaro Feature Highlights
Using Vagaro, you can book, review and manage your appointment schedule just the way you like it.
White label, custom Vagaro-powered website to accept appointments
Customizable settings to determine if customers can cancel or reschedule appointments online
Clear and concise directions to the business
Restrict new customers and "no shows" from scheduling online
Very Easy to Use
"Myself and my clients all agree. Great app, and very easy to use," says Pam Mckenzie. She was impressed with the various options and features made available through Vagaro's software.
Pricing Made Simple
Vagaro offers a simple price concept which begins with a $25 per month option for one user and increases $10 per month based upon the number of users and features added. The pricing plan tops out at $85 for more than seven users.
Setmore Booking Software
The Setmore scheduling software adds the ease of online scheduling, payment and real-time features to ensure that your business runs as smoothly as possible. The dedicated app provides accessibility for clients from their mobile devices. Business owners will appreciate the ability to accept PayPal payments too.
Your customers can book their appointment by accessing your "Booking Page" from Facebook or a dedicated website link. Each Setmore account has a customer facing function that allows them to view your staff, rates, availability and services from a branded web page.
Benefits of Using Setmore
The versatility and social aspects of Setmore set it apart from many of its competitors.
Provide customers with an "at-a-glance" view of availability
Synchronize your calendar with Google
Customizable booking page to schedule clients in multiple languages
Sharable URL allows business owners to share their booking page across social networks, business cards and email campaigns
Works across multiple platforms
Premium package provides teachers and conference attendees with the ability to accept Stripe payments
Assign customizable roles and limit staff member access to certain features
A Straightforward Scheduling Solution
Utilizing the software to book incoming shipments, Peter H. likes the "decent set of customization" options. He found Setmore to be "straightforward" and "fairly simple to use."
Setmore's Pricing Plans
While the features and customizable options are enticing, the pricing system is quite simple. Setmore offers a free version, a Power version for $25 per month and a Premium version for $199 per year.
Booking Is Simple with SimplyBook.me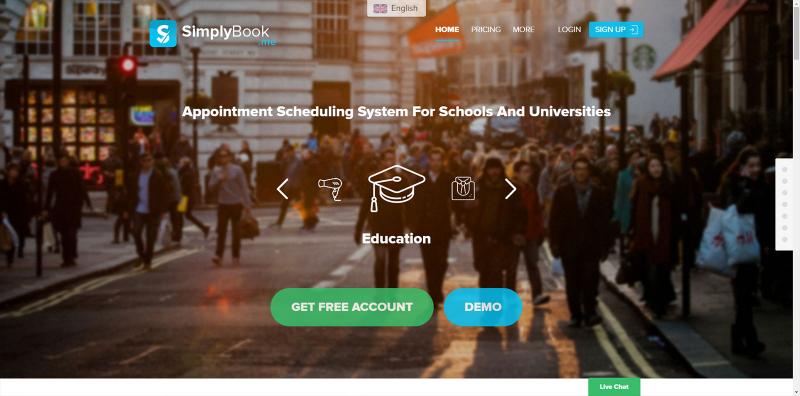 SimplyBook.me is a free online scheduling solution for consultants, teachers and advisors. The service accepts online booking through the website or a dedicated mobile web application for iOS and Android. SimplyBook also provides booking widgets for social media platforms.
The plug-in feature allows users to easily book their class. Schedulers can create their course and be ready to accept bookings in less than two minutes simply by accessing the "Schedule" link on the SimplyBook.me customized webpage.
What to Expect from SimplyBook.me
As its name implies, the objective of this software is to make it as easy as possible for customers to "simply book" their appointments.
Clients and customers can pay for their services using PayPal, Skrill, Stripe, Zooz and Bitcoin
Easy synchronization with Google Calendar
Expandable and customization
Special booking system for corporations
Receive updates and reminders via Facebook Messenger, text or email
Five Star Service
Reviews of Simplebook.me are generally positive. Nick from Hansen Migration found the program "a little challenging to setup," but once it was setup, it was "very easy for clients to make bookings."
Cost of Using the Service
Start using SimplyBook.me for free and receive a free website with unlimited staff and 50 bookings. The Basic option provides for two free months if the payment is made annually. Simply Book.me has options for large business, offering 2000 bookings, unlimited staff and a promotion system for $59.90 per month.
Sagenda Comprehensive Online Scheduling
Sagenda is full service software where clients can book, reserve and schedule their appointments online, free of charge to the client and the business owner. Sagenda promises to increase business productivity with their features.
The Sagenda plugin can be embedded to allow customers the option of scheduling their appointment from your branded website. Once the Sagenda account has been activated, add a "bookable item" and enter each room separately. Provide the description and include as much information as possible for the client. After this information has been entered, the course can be created.
Main Features of Sagenda
When using Sagenda to manage your online scheduling needs, you can expect a premium experience at anything but a premium price.
No advertisements or spam
WordPress plugin for maximum versatility
100% mobile application and customized responsive design perfectly suits your mobile devices no matter the size
Absolutely free. Sagenda is a rare service provider that has no premium membership plans and no catches.
A Streamlined Solution
Citing great site integration and easy processes for multiple users, Premium Coding says Sagenda "saves time, improves communication, and keeps your business out of trouble."
Starting at a Price of Free
Free has a nice ring to it. While options can be added to Sagenda for a small fee, the system itself is offered for free. Customers may use the system to accept payments for $99 per year. Clients may also hire Sagenda employees for their IT project needs for a fee.
Try AppointmentPlus for Your Business Needs
Search for the best scheduling software and AppointmentPlus appears right at the top. With over 300 million appointments on their roster and thousands of clients served since 2001, AppointmentPlus is one of the few online scheduling software services that allow their clients to pay while booking their appointments.
Consumers can schedule appointments through the "Book Now" code snippet, which will be embedded on your website or Facebook page. Business owners create their accounts and can fill in their schedules through the convenient module. Once the appointment has been created, the customer and the owner will both receive alerts.
Main Advantages
In addition to the ease of integration with Facebook and the ability to accept payment online, AppointmentPlus offers many enticing features for businesses of all sizes.
Receive notifications when customers book, change or cancel their appointments
Customers can add themselves to waiting lists
Drag-and-drop functionality
Equipped to manage multiple staff calendars
Well known client roster including Pepsi, BlueCross Blue Shield and Coors
Suitable for Large Corporations Too
As Chris Motola points out in his review, AppointmentPlus is used by Fortune 500 companies as well as small and medium sized businesses. The graphical user interface can feel "incredibly wordy" and the website utilizes an "overly dense" layout, but this speaks to the "wealth of settings" available.
Monthly Fee Breakdown
AppointmentPlus offers four different pricing systems, ranging from $49 to $199 per month. The plans includes provisions for over 500 appointments and up to 11 users. While AppointmentPlus does not offer a free option, their pricing plans includes a number of useful features such as website integration and analytical reporting.
Be on Time All the Time with Timely
Timely is an automated online booking service for salons, beauty spas and clinics. Access this software from anywhere using your computer or mobile device. Timely doesn't just stop at scheduling software; they can help you organize your business staff, stock and client reporting too.
Business owners can check on their staff financials and booking activity from a dashboard view without having to step one foot in the office. Automated reminders help reduce customer "no-shows," while the bulk SMS marketing service helps promote the business and announce last-minute promotions and availabilities.
Clients can use the "click to call" feature to Skype with their service provider or to schedule an appointment. They can also use the mobile application to book their next appointment. A confirmation message is automatically forwarded to the client as a reminder.
Main Highlights of Timely
With a number of features to help you manage your calendar, customers and sales alike, Timely aims to be both easy to use and remarkably powerful.
Email campaigns work seamlessly with MailChimp
Automatic alerts for cancelations, rescheduled appointments and new bookings
Customizable reminders help clients feel unique and appreciated
Messaging system allows business owners to reply to messages through the Timely system
Sell and track products, service packages, and even gift vouchers
Integrate seamlessly with your company Facebook page
Positive Customer Testimonial
"You can't go wrong with Timely," writes Michael from Thriveworks. He enjoys the wealth of features and the ability to check your calendar on a mobile device. It is an approachable solution, even if you are not "a tech-person."
Tailored Pricing Plans
The affordable booking software makes it easier with a simple pricing structure. Timely offers pricing plans for $15 per month or $20 per month, depending on the staff calendars required.
Comparison of Online Schedulers
The scheduling options are detailed below for a summary of their key features. Please note the "monthly fee" is based on a flat service. The price is subject to change based upon optional features and customizations.
Scheduler
Pros
Cons
Free Version
Monthly Fee
Acuity Scheduling

Consistently upgraded software features
Seamless integration
Dashboard functionality for easy schedule viewing

No mobile app
Steep learning curve
Multiple ads
No waiting list functions

Yes
$10.00
Appointy

5-star customer service rating
In-person training

Website is not customizable for business brand emphasis
Limited features

Yes
$19.99
Vagaro

Booth rental
Employee, client and inventory management features
Point of sale function
Loyalty program
Tanning management program

App works better for booking than the website
Only admins can maintain inventory for each stylist; they cannot do it on their own
Downtime during business hours

Yes

$25.00

Setmore

Calendar management solution
Automated scheduling
Appointment reminders

Features are optional and expensive to add on
Software includes glitches

Yes
Free

SimplyBook.me

Frequent upgrades to features
Integrates well with PayPal

Cumbersome navigation
No live customer support
Must go through the entire booking process to view client availability
No translation feature

Yes
$9.90
Sagenda

Responsive design for easy mobile web use
Payment processing functionality
No ads

Limited functionality
No mobile app

Yes
Free
AppointmentPlus

In-person training
Real-time notifications
Manage multiple staff calendars

No mobile app
Can't schedule multiple appointments for the same client
Customers can't move appointments as easily as admins forcing them to cancel and rebook their appointments

No
$49.00
Timely

Integrates well with QuickBooks and accounting software
Great customer service

Cannot override pending bookings through the booking system
No Android app available

Yes

$20.00
The Best Scheduling Software
While the virtual scheduling option is a unique feature, there are many selections available to suit your business needs. Vagaro is amazing for salon owners, while the professional educator may prefer the features in Appointy. It's about finding the right fit for the right kind of business.