How to Set Your Browser Home Page
Are you getting tired of having to navigate to your favorite website every time you go online? There is an easy solution - simply change your browser's homepage. If you are using any one of the four major browsers, this is very easy to do. It can be done in just a few simple steps. In the examples below, Google and Yahoo are used for illustration purposes but you can follow the same steps to reset your browser's homepage to any website you choose.
Internet Explorer
Although version 11 has recently been released, if you use Internet Explorer (IE) as your browser, odds are pretty good you are using version 8. The three most popular versions in order are 8, 10 and 9. If you are unsure which version of Internet Explorer you are currently using, from the browser click Help, and then select About Internet Explorer (at the bottom of the list).
IE8 or IE9
Click on Tools
Go to Internet Options (bottom of list)
Make sure you are in the General Tab (it should default to General)
Type: http://www.google.com/ into Homepage section (top box on General tab)
Click Ok
IE10
Close all open tabs, then open Internet Explorer for desktop

Go to Tools>>Internet Options
Make sure you are on the General Tab
Type: http://www.google.com/ into Homepage section
Click Apply
Restart Internet Explorer
IE11
Go to Settings

Click Options and under Homepages click Manage

Type: http://www.google.com/ or click Add Current Site if you are already on Google

Click Apply
Firefox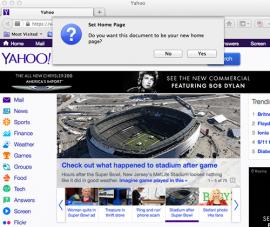 Although Internet Explorer maintains a stronghold as the most popular browser, second on the list fluctuates between Firefox and Chrome. Setting the homepage in Firefox is the easiest of all the four major browsers.
Go to www.yahoo.com
Click and hold the icon to the left of the address
Drag the icon to the home icon in the right corner of the browser
Release and hit Ok
Chrome
Even though Chrome doesn't include the Home icon as a default setting, once you go to the browser settings tab to place it on your browser, you can adjust most features you want from there - like set the default search engine or default browser.
Click the Chrome menu icon on the right side of browser address bar
Select Settings
Select Add Home Button to browser toolbar under Appearance
Web address will now appear - click change and enter http://www.google.com
Safari
Although fourth in popularity, Safari, created by Apple, is the browser of choice for its users. Apple did release a version of the browser for Windows, but discontinued the product in 2012.
Click on the Safari menu in the browser
Select Preferences
Select the General tab
In the Homepage part of the tab, type www.yahoo.com, then click enter
Click Change homepage.
Unwanted Changes
If you've ever noticed your browser homepage changing for what seems like no reason, chances are this occurred as a result of installing a program on your machine. Although, a program shouldn't change your browser's homepage without asking permission - it's easy to click 'yes' during installation without realizing that doing so will change the homepage. This is because the question is often hidden among other questions and the option is usually pre-selected. When installing a program, just remember to uncheck any box that is pre-checked to prevent unwanted homepage changes. If you do experience the problem, use the instructions provided here to change it back to what you prefer.