Setting up your e-commerce store can be scary if it is your first time. Whether you're a small or big business, you can benefit from finding the best site builder for you. A few of the best ones out there include Shopify, Wix, and Volusion.
Shopify
Listed in the first position on many top lists including Best e-commerce Builders for 2018, Shopify is a top e-commerce site that has partnered with Daymond John from Shark Tank. Shopify is ideal for small businesses who want to create an online presence or start an online store.
Ease of use
In addition to featuring premium themes and 24/7 support, it is very user-friendly. The ease of use is a nice feature for those just dipping their toes into e-commerce pond. The creator doesn't require you to have any coding or special tech skills. Additionally, you can track sales and growth trends as well as add new sales channels, like Pinterest, Facebook, Messenger, etc.
Cost
Shopify offers plans ranging from $9 - $299 a month. The basic plan doesn't include an online store and has a 2% transaction fee, while the advanced plan offers several additional features and reports and requires only a .5% transaction fee.
Pros and Cons
In addition to receiving an overall rating of 4/5 by Style Factory and a 5/5 by Website Builder, Shopify offers features that don't leave users wanting for anything and great customer service. It also has an easy-to-use design and marketing features. The pricing, however, is a disadvantage. In addition to having fees for transactions, there are credit card fees and add-on fees.
Wix
Designed for small businesses, Wix offers a great e-commerce builder that was featured in Creating a Website Today among the top 5 builders. It was also listed among 5 Online Store Builders: The Best and the Brightest.
User Features
Designed for users with little or no e-commerce knowledge, you can have a website up and running in just a few minutes. In addition to dozens of different templates for your specific product, the interface uses a simple drag and drop method even the most novice of users can master. You can create customized galleries, add a blog to the site and use easy marketing and promotion tools like coupons and SEO optimization.
Bang for Buck
While Wix does offer a free option with limited features, you can get an e-commerce package for $17 a month. In addition to 20GB of storage, you get an online store and $300 in ad vouchers.
The Good and The Bad
Wix received a 9.8 out of 10 by Finance Online. They noted the free website builder as a pro and the online store and functionality as well as the access to hundreds of design templates. However, the customer service was noted as a con by Creating a Website Today. Additionally, Website Tool Tester noted the templates aren't easy to change once you've chosen your initial template and ad-free plans are a bit expensive.
Volusion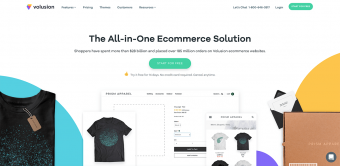 The e-commerce Builder Volusion was listed among the 10 Best e-commerce Website Builder Options for 2018. Additionally, it was listed as 'brilliant' by Entrepreneur Magazine.
Creating Your Site
In addition to having 11 pre-made templates to choose from, Volusion also offers tech-savvy individuals the opportunity to implement their own HTML storefront. You also have the opportunity to edit in real-time and customize pre-made templates. The builder helps you with inventory management, product options, and integrated payment collection services. Add-ons and plug-ins round out the user experience. This is a great option for larger business with an established corporate identity.
Plan Options
Those interested in Volusion have three plan options available to them: personal, professional and business. The personal starts out at $25 a month and has a 2% transaction fee. The business plan is $125 a month and offers a .5% transaction fee and account manager support.
Opinions
Overall, Volusion got a score of 9.3 from Finance Online. While their flexible pricing and wide integration were noted as pros, they did note that a built-in blog feature would have improved this builder. The Merchant Maverick also noted the limited features and limited payment gateway integrations. However, the ease of use and low cost were praised.
Building the Best
There are a variety of e-commerce builders out there for both small and big business. Whether you are just looking to sell your homemade goods or start a large online store, checking out some of the best builders on the market can be helpful in choosing the best option for your online shoppers.