Your computer went from speedy Pete to lagging Lou, but you don't know what could be wrong. Getting a professional tech to look at your computer or even help you to solve the problem can get pricy. Thankfully, these three companies offer free online live technical support.
Tech Support Guy
Coming in first for top free tech support services is the Tech Support Guy. This free online service was not only recognized by Good Housekeeping, but also by the Today Show, Reader's Digest and PCWorld. It also came in number one on Gizmo's Freeware Best Free Technical Support Sites.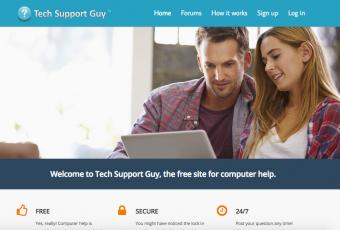 How It Works
Asking a question is just a matter of signing up for a free account and posting your question on to the forum for a tech to answer. Questions might focus on viruses, crashes, software and even usage errors. In addition to asking a new question, you can also search the forum to see if your question was already answered. While this isn't a live chat system, responses to most questions, like set up errors or 100% disk issues, only take a minute or two. More difficult questions might take more time, but that is to be expected.
Volunteer-Run
The site is run by volunteers and maintained by donations. The volunteers each have their own different specializations, which include Windows, Mac and Linux. Additionally, you can ask questions at all hours of the day, but the answers might take a bit if no one is available. The techs are friendly, professional and prompt. They also work with you to ensure the problem is solved.
Computer Hope
Listed among the Top Sites for Computer Troubleshooting & Tech Support, Computer Hope is a free online tech support website. With several years of experience under their belt, this company offers several volunteers to answer questions about windows set up, computer crashes, troubleshooting and more.
How It Works
In addition to a huge online forum, Computer Hope offers a live chat with several volunteer users available. Getting into the chat is as easy as clicking the chat button. No sign up is needed. Additionally, the service discusses who is available to answer your question when chatting.
Specializes in Windows
While the service is easy to use and quick, there is not always someone readily available to answer your question, especially at off hours. However, if they can't answer your question right away, there is a link within the chat that you can use to try to manually find an answer to your question. Additionally, this site specializes in Windows products, so if you have a Mac question, you might need to go elsewhere.
Protonic
Featured among the 10 Free Computer Tech Help Sites You Might Have Overlooked, Protonic aligns you with a volunteer technician to answer your question. It's not a live chat service, but it's still fast and helpful.
How It Works
Before you can post your question, you need to sign up for a free account. This is as easy as adding your email and creating a password along with your name. After sending your question, the answers are quick, taking only a few minutes to get a response. The response is also helpful, to the point and professional.
Great With Different Systems
While this isn't a live service, it does offer email support. This can be helpful if you have a complex question that requires lots of personalized help. In addition to Windows, Protonic has specialists that understand Mac and Linux systems. The techs can answer all types of software and hardware questions, like providing step-by-step instructions on how to fix a disk drive error or get your disk to stop running at 100%.
Getting It Free
When your computer goes down, it can be the end of the world as you know it. However, finding free online computer help with an actual person can be a life saver. Thankfully, there are several great websites out there that offer personalized web support from volunteers with a plethora of tech knowledge in systems ranging from Windows to Mac. Now the next time your computer bogs down, hit the help button.