Best Online Photo Sharing Options
With more people than ever taking photos with their smartphones, everyone is on the lookout for the best online photo sharing service to use. Each of these services differs in terms of price, amount of free storage, unique features and intended user base. The services described below were selected for comparison based on overall reviews and consumer popularity.
Summary of Services
Most photo sharing services offer some online storage for free with the option to upgrade for additional features and more cloud storage.
| | | | |
| --- | --- | --- | --- |
| | Free Photo Storage | Major Feature | Mobile Apps |
| Flickr | 1 TB | Blog and social integration | iOS/Android |
| Amazon Prime Photos | 5 GB (unlimited with Prime) | Family Vault photo collections | iOS/Android |
| iCloud | 5 GB | Unified Apple ecosystem | iOS (iCloud Drive) |
| Google Photos | 15 GB | Artificial intelligence | iOS/Android |
| Dropbox | 2 GB | Seamless data synchronization | iOS/Android |
| Microsoft OneDrive | 5 GB | Office 365 subscription | iOS/Android |
| 500px | Unlimited | Marketplace for selling photos | iOS/Android |
| Photobucket | 2 GB | Easy online sharing | iOS/Android |
| Smugmug | No | Custom photo websites | iOS/Android |
| TinyPic | Unlimited | No account needed | iOS/Android |
Flickr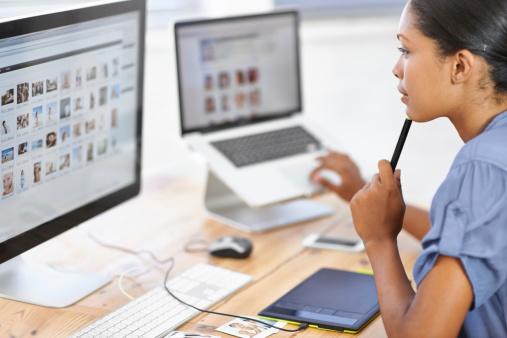 Flickr is a service owned by Yahoo! and it used most often to host pictures intended to be incorporated in blogs and social media. In fact, if users have Yahoo! email accounts, they already have access to Flickr accounts.
Flickr offers three account options:
Flickr (free): The basic Flickr account has free storage up to one terabyte (1 TB).
Flickr Pro ($5.99/month): Upgrading to Flickr Pro provides unlimited storage, access to the Uploadr desktop tool to upload all photos on a user's computer automatically, including those residing in other programs like iPhoto and Dropbox. All photos are automatically marked as private and Flickr automatically removes duplicates. Flickr Pro also provides an ad-free environment.
Flickr Pro+ ($49.99/year): The Flickr Pro+ account offers all the same benefits as the monthly Pro subscription, but at a discounted annual rate.
Flickr also allows users to create communities and groups based on mutual interest, photo taste and style, letting people use contacts, profiles and even FlickrMail to reach fellow users directly.
Organization and Licensing
The sheer number of photographs automatically uploaded to Flickr can be overwhelming when searching for quality pictures as Liz Masoner points out in her review on The Spruce. While other photo sharing services can require text-based folders, Flickr employs drag-and-drop organization to make moving photos easier.
Masoner also notes that while Flickr has taken steps to improve their licensing tags, many users believe that because Flickr uses Creative Commons, all photos on the site are free to use and copy. Several companies have been caught using photos for ad campaigns without permission. Site design issues have relegated new add-ons like maps and tags to the bottom of the right column which hides information and makes important features impossible to find without scrolling.
Sharing Options
Photo sharing is centered around contacts with users viewing each other's photos based on the number of views and likes. Though Flickr once struggled with copyright issues, users are now able to set licensing notices by the photo or batch. Users can also retrieve photos at full resolution since Flickr doesn't compress the images when stored.
Flickr users also have significant flexibility with whom they choose to share photos, as photos can be marked for individuals, groups and the public. Many popular photo editing software programs like iPhoto, Aperture and Photoshop have been integrated, enabling users to upload directly after editing.
Target User Base
Flickr lets users search for and locate images going back several years, making it ideal for archivists and professional photographers looking to showcase years of work. Another user base that Flickr is perfect for is families concerned that their children might use photo sharing to find inappropriate images. Flickr has a variety of filters that parents can use to prevent children from searching for unsuitable content.
Amazon Prime Photos
Amazon Prime Photos is a supplementary service available free as part of Amazon Prime's collection of services for Prime users. While unlimited free photo storage is only for Amazon Prime users, anyone who signs up for photo storage with Amazon gets 5GB for free. Non-Prime users can choose between three storage upgrade options:
$11.99/year for 100 GB
$59.99/year for 1 TB
$119.98/year for 30 TB
For any prolific photographer, unlimited storage holds serious appeal. Users can upload photos via Windows or Mac desktop apps, mobile apps or a browser interface. Photo.net says that the uploading interface is "a fairly basic affair" and there is no syncing option from desktop.
Users of the iOS or Android app can set it so that photos on their devices are automatically uploaded to Prime Photos. Once uploaded, photos can be shared via email, link, Facebook and Twitter. While photo storage is unlimited, it should be noted that video storage is limited to 5 GB and videos must be shorter than 20 minutes and less than 2 GB each, although more storage space can be purchased.
Family Vault and Photo Search
Prime Photos has a unique feature that lets users invite up to five friends and family members who can also have unlimited photo storage, as well as the option to collect photos in the Family Vault. This results in a shared collection of photos, perfect for extended family members who wish to share precious moments. Users can also order physical prints of digital photos in their collection.
Prime Photos allows users to search via image recognition using objects, faces and environments, even letting users search for photos by location taken at the city, state or county level. For this feature to be empowered, the locations setting must be enabled on the device taking pictures. Only the creator of the Family Vault can remove members and they can do so at any time. Members can remove themselves from the Family Vault, but they can't invite others to join or revoke membership.
Not for Professionals
When considering whether this service is right for an individual, there are several factors to take into account. One is that Amazon makes it explicit that they do not encourage professional photographers to make use of Prime Photos: "Prime Photos is for your personal, non-commercial use only. You may not use it in connection with a professional photography business or other commercial service."
Another factor is the lack of video storage, which may rule it out for some users. However, for existing Prime customers or those interested in cheaply priced unlimited photo storage, Prime Photos is ideal.
iCloud
iCloud allows users of Apple products to keep photos and other files secure while updating them across all devices though Windows users can easily use it as well. Anyone with an Apple ID can access the basic storage level of iCloud, which is 5GB. The iCloud Drive allows users to share pictures, files and any other file type effortlessly by inviting people to view or edit them. This eliminates the need to create copies, manage separate versions or send attachments.
Beyond the free 5 GB storage level, Apple offers three upgrade tiers, the top two of which can be shared with family.
50 GB for $0.99 per month
200 GB for $2.99 per month
2 TB is $9.99 per month.
Lack of Collaborative Features
While iCloud was designed to connect seamlessly with Apple devices, it does so at the expense of overall functionality. When it comes to collaborative editing, iCloud falls down when it comes to what users generally expect from such software, like revision tracking and identifying individual contributions.
iCloud does not have any music features and at present there is no Android app available for mobile use. Additionally, iCloud is not in compliance with file syncing service standards.
For the Apple Fan
From casual users of Apple and iOS products to die hard Mac-heads, iCloud is worth looking into.Those looking for an expanded range of features or cheaper prices might wish to look elsewhere. However, iCloud does provide a unified experience for Apple users across all their devices.
Google Photos
Google Photos offers free, unlimited storage for pictures up to 16 megapixels and videos up to 1080p HD, compressed to a "high quality" version. For full resolution uploads, Google Photos tap into a user's Google Drive storage allotment, which is also used for Gmail storage. Basic users get 15 GB for free. Additional storage can be purchased on a subscription basis.
100 GB for $1.99/month
1 TB for $9.99/month
10 TB for $99.99/month
Users can also take advantage of automatic uploading from both iOS and Android apps. From within the mobile app, users can clear up space on your device by automatically removing photos and videos that have already been backed up to Google Photos.
Smart Technology
Where this service really shines is Google's use of artificial intelligence to search through photos. While other photo sharing services can recognize objects and faces across images, Google Photos can also create its own content based on your photos, such as animations, stylized images and movies. It can even recommend with whom users may want to share photos.
Intelligent editing allows Google Photos to identify distractions and noise in the foreground of photos and lets users eliminate them with a single tap or click. Google Lens allows users to identify real world objects and locations and get information about them. If Google Lens takes a picture of a restaurant, users may get the business's contact details, address and hours of operation. Google also has a decent range of photo editing options and recently added a book-printing service to its portfolio.
Photo Organization
Michael Muchmore and Max Eddy of PC Mag note that Google Photos doesn't offer the same degree of organization compared to alternative services like Flickr. It doesn't display tags and subcategories in the image data, and it doesn't offer the same degree of specificity when searching and categorizing photos.
When editing photos on the mobile app, Google Photos doesn't have an "undo" option when editing or removing redeye. Touchscreen users have also reported difficulties and users have proposed that the "suggested sharing" feature could use improvement.
Ideal for Typical Users
With unlimited cloud backup, AI-assisted suggestions and impressive search features, Google Photos is very appealing to the average user. Professional photographers or those seeking a more impressive editing suite would be advised to look elsewhere.
Dropbox
While Dropbox is better known for its document sharing and productivity services, photo sharing is a viable part of their package too. Dropbox is one of the most commonly used backup systems worldwide with over 500 million users. Capable of integrating with over 100,000 third-party apps, Dropbox integrates very well with users' operating systems. Dropbox even provides users with a history of their actions in case they need to go back to earlier versions of files.
Free and Plus Accounts
Free accounts start at 2 GB of storage, but referring friends to Dropbox gets users 500MB each, up to 16 GB. Extra storage can also be gained by enabling camera uploads and linking other accounts like Twitter.
Dropbox Plus costs either $9.99 per month or $99 per year. This provides 1 TB of cloud storage space, as well as priority email support, remote device wipe, and password-protected links. For an extra $3.99 per year, the Extended Version History add-on allows users to keep deleted and previous versions of files for up to a year (instead of just 30 days) without counting these towards file space caps.
Sharing Files and Pictures
To share files in Dropbox, users can make files publicly available through the Public folder. When Dropbox is installed, the app automatically creates a folder called Public. Users place files in the folder, right-click on them and select "Copy Public Link," creating a web address for a public, permanent link to the file. Only those files selected are visible from that link, not the whole folder. Users can give the link to anyone to enable access the file, even if they don't use Dropbox. It is worth noting that there's no password protection for this sharing method.
Dropbox users can also choose to share folders with other specific Dropbox users. The storage space only counts against the cap of the original user, not the person with whom the folder is shared.
Pros and Cons
While Dropbox does offer an impressive array of options, other services offer cheaper alternatives. Cloudwards also indicates that security and customer service are "terrible," though ease of use is "excellent" and speed is "very good." For users seeking reliable, simple full-syncing backup with numerous features, Dropbox is a great option.
Microsoft OneDrive
Windows 8 and 10 users have OneDrive built right into their systems, but anyone with an internet connection can use it. Any pictures or other files stored on OneDrive are organized by file type and can be accessed via a user's Windows PC or mobile devices. OneDrive is also closely linked to other Microsoft programs like PowerPoint and Word and offers clients and apps for iOS, Android and Mac.
Basic accounts only get 5 GB of space. Beyond that, OneDrive has three plans:
OneDrive 50 costs $1.99 per month for 50 GB.
Office 365 Personal costs $69.99 per year for 1 TB.
Office 365 Home costs $99.99 per year for 5 TB shared between five users.
The latter two plans include Office 365, as well as offline folders, expiring links, and an increased sharing limit. Unfortunately, OneDrive storage offers are on the decline, which provides users with less value for money.
Real-Time Collaboration
With an Office 365 subscription and OneDrive, users can collaborate with others in real time while accessing any file from any given computer. OneDrive also offers great photo sharing options including tagging and slideshows. While iCloud and Google Drive require files to be directly uploaded, OneDrive allows users to retrieve any file from a computer without needing to upload them first. Syncing devices to OneDrive allows smartphone and Mac users to access files from their devices easily.
Remote Access Advantages
Windows users who need to access their files on the go and from any device will find this service particularly useful. Cloud Storage Advice likes the offline functions and while there isn't an automatic backup option on the PC itself, you can maintain a local "sync" folder that is synchronized with a corresponding folder in the cloud. Other services offer more free storage and better third-party integration, but OneDrive is the only service that lets users pull any file from their computers. For Office users looking for a well-integrated, one-stop shop sharing service with many perks, OneDrive fits the bill.
500px
Rather than being geared towards the average social media user looking to share personal snaps, 500px is built around the promotion and sale of professional photography via social media. 500px was created for photographers to showcase their work without being lost in the crowd of low-quality images. Indeed, Beebom named 500px as the best alternative to Flickr.
Basic accounts have unlimited storage, users are limited to only allows ten photo uploads on a rolling basis per week. 500px offers three types of paid accounts:
Awesome ($21.99/year) offers unlimited uploads and statistics.
Pro ($59.88/year) adds priority listing in the Directory, plus a Pro Profile.
Pro+ ($239.88/year) includes a customizable website powered by Format with an online store, client proofing and unlimited pages.
Licensing Photos for Profit
The quality level of photographs on 500px is generally higher than other sites and it offers more professional options to users, like the ability to sell licenses. Unlike many photo sharing websites, 500px does not require users to sign over their rights to uploaded photos.
500px was founded by professional photographers, making the rule "photos first" a primary part of the service. Other 500px members can also comment, vote and follow each other's works. Users can also sell their photographs through 500px's Marketplace, giving professionals and amateurs alike the opportunity to network and profit from their photos. 500px is geared towards both professional photographers marketing themselves and those interested in professional photography.
Not for Casual Users
The limited ability to upload photos on a free account may put casual users off. However, not having to sign away copyright to photos and the marketing and commercial gain make 500px ideal for professional photographers and those seeking to enter the profession.
Photobucket
Once one of the most popular photo sharing services online, Photobucket allows uploaded images to be used almost anywhere on the web. The current library includes over 15 billion images submitted by users all around the world. Photobucket allows easy posting to sales sites, blogs and networks by letting users integrate their social media accounts.
Unlike several of its competitors, Photobucket's free account only offers 2 GB of free storage. Photobucket offers three paid plans, all of which come with an ad-free browsing experience and two months free when billed annually.
Plus 50 ($5.99/month) provides 52 GB of storage.
Plus 100 ($9.99/month) provides 102 GB of storage and unlimited link sharing.
Plus 500 ($39.99/month) provides 502 GB of storage, unlimited 3rd party hosting and unlimited bandwidth.
Tools and Community
Users benefit from the inclusion of free, powerful photo-editing tools, along with an online community for viewing public photos and videos. Users can also create wall art, prints, phone cases and mouse pads from their images. Such products are satisfaction guaranteed, so users can have defective items replaced at no additional cost.
Privacy Settings
Users retain all rights and ownership to content submitted, displayed or uploaded on Photobucket. If users designate any photos and videos as "public," they are considered public information and may be copied or further distributed by others. If geo tags are included with content, they will be viewable. However, Photobucket offers the ability to disable this in the Account Settings section.
Any videos or photos made "private" will not show up in public search results. Friends and family members can gain access to private content through passwords, allowing them to view private albums. There is no ability to leave or receive feedback or get paid if a public image is printed. Users who wish to watermark their pictures must do so before uploading them to Photobucket.
For Casual Sharing
While paid plans feature more options for high-level photographers, the free account may leave some users looking for more. However, Photobucket is great for casual users looking to share photos among friends and family and create gifts.
Smugmug
Smugmug serves as an online gallery of sorts for professional photographers seeking a platform to display their work. Loading photos into galleries and creating new ones is an intuitive process, and users should be able to have a decent website within a few hours of purchasing an account.
No free storage is offered through Smugmug. However, SmugMug does allow video uploads of up to 20 minutes in length and 3 GB in size, making it appealing for anyone with large, HD-formatted videos to upload. Smugmug has four plans on offer, all of which have discounts for annual billing.
Basic is $3.99 per month and comes with unlimited photo uploads and full-screen galleries.
Power is $5.99 per month, empowering users with pre-made site designs and optional HTML/CSS customization.
Portfolio is $12.50 per month, and it is geared more toward users who are interested in selling their photos.
Business is $25 per month, targeting users who run a photography business and need access to client tools.
The Custom Domain option lets users link their Smugmug profile to a GoDaddy address for $12 per year, which makes marketing much easier.
Advantages and Disadvantages
Photos on Smugmug are also displayed in very high quality, even on monitors with over 1920 pixels wide. Smugmug also offers a great many customization options when building an online gallery website. For many users, one of Smugmug greatest options is the ability for photographers to have users purchase prints through one of four well-known photo labs.
While Smugmug provides professional photographers with a range of options to promote and sell their work, there are several disadvantages. Galleries cannot be shared with Facebook and tagging faces is not available. Smugmug does not offer any free accounts, users cannot designate materials under Creative Commons and there are almost no community features.
A Marketing Tool for Professionals
Professional photographers would benefit the most from the marketing and sharing options available. New design options and photo organization tools are being added, but the lack of community features and social media sharing ability makes this service less likely to meet the needs of average users.
TinyPic
TinyPic is built around the idea of free, easy sharing of images on social media. This makes sense as TinyPic is a subsidiary of Photobucket. TinyPic is free to use, no account is needed and there is no storage limit for users. Pictures up to 1600 pixels wide and videos up to 500 MB in size can be uploaded.
The most noteworthy feature is that the site creates tiny URLs for images, making them easier to share on any social platform. By doing so, users can share photos without worrying about character limits or taking up space in a post. Users can search by topic, have a "Favorites" folder and receive IMG, URL and HTML codes for each image.
Important Shortcomings
A very notable disadvantage of TinyPic is that images that haven't been viewed in 90 days expire, rendering any URLs useless. There is also no ability to comment or like photos, no editing software and no photo syncing. There is also no privacy setting, customer service or the ability to upload photos in bulk.
Casual Online Sharing
For casual users looking to distribute pictures and video quickly and easily by sharing a single URL, TinyPic is the perfect service. Anyone looking for a permanent home for their photos or a wider range of features would be better served elsewhere.
Photo Sharing for Everyone
With smartphone use growing every year and thousands of photos being created every day, it can seem overwhelming to choose the right photo sharing service. Always consider what aspects of photo sharing are most important and which services are in financial reach. While deciding, always keep compatibility, pricing and convenience in mind.