When your toddler approaches a computer keyboard and mouse, consider seizing this "teachable moment" to educate her about some of the features of technology. You can find a wide variety of toddler-appropriate games online, but before you do, take some time to simply walk your toddler through some simple lessons on how to use a computer. As your child learns how to hold the mouse, click the right and left button, press some of the keyboard buttons, and manipulate the cursor, she is actually improving her motor skills, including hand-eye coordination. Once she somewhat understands the concept of using a computer, you can introduce her to some fun and educational preschool games.
Finding Free Online Toddler Games
Where should you begin when it comes to entertaining your toddler via the computer? You can certainly find plenty of games on the Internet, but not all of these are appropriate - or free. Here are a few resources where you can find toddler-friendly games at no cost.
Fisher-Price Games
Fisher-Price offers a wide selection of free games that are suitable for toddlers. The site is very easy to use, and it's simple to focus results on options designed for toddlers. When you visit the site, simply click "toddler" in the age box to narrow options to the right level for your child. You can further narrow the selections by choosing a particular brand, character or game type.
A few examples of the many toddler games you'll find on this site include:
Little People: Little People Online Coloring allows toddlers to color in picture with a few simply clicks of the mouse and the Little People Matching Game that helps toddlers with their memory.
There is a star rating system, so you'll have a chance to see how other parents rated each game before you decide which one to try, and you'll be able to give feedback on the games your child plays. Additionally, when you click on a game, you'll be able to see information about the types of skills it's intended to develop before selecting play.
Nick Jr. Games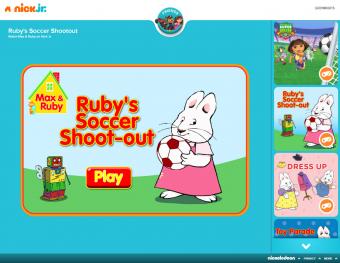 Nick Jr. lets you find games based on your toddler's favorite show, whether it's Max and Ruby, Dora the Explorer, Yo Gabba Gabba!, or The Backyardigans.
Some of the games available year-round on the site include:
Max and Ruby: Ruby's Soccer Shootout Game is an easy game that lets children "kick" a soccer ball into a goal while trying to avoid robots that will stop them. The game is timed. This is a great game to teach kids about winning and losing and about playing soccer.
Dora the Explorer: Dora's Royal Rescue Game is a more advanced game that mimics the Dora the Explorer show. The children can pass through three levels (like the three destinations on the map) and solve riddles in order to rescue Don Quixote from a castle. There's even a bonus at the end - as the toddlers complete the game, they collect crayons. After they win the game, they can use those crayons to color in pictures that they can print out and keep.
The games here are slightly more complex than those at Fisher-Price and are aimed for older children who are already comfortable with using a computer and mouse. Be ready to help with these games if your children are younger.
PBS Kids Games
PBS Kids is always updating their games. Their selections, like those on Nick Jr., relate to the network's lineup of shows. Parents can select the games they find most appropriate by mousing over individual games - each one will let the parents know what toddlers can learn from playing.
A few popular choices include:
Super Why!: The Story Book Creator game allows toddlers to change traditional stories, like Jack and the Beanstalk, to their own funny and imaginative stories to read.
Caillou: The Caillou Gardener game lets children plant and grow different seeds and trees. Kids learn by watering them, watching them change, and seeing them produce fruit and vegetables.
The website is organized by types of games, so parents can choose math games, literacy games, or even science games for their children. In addition, the site provides free printable materials that can be used during off-line time.
Baby TV
Baby TV offers some of their games free through the iTunes store as an app for those on the go. Their games are very simple. While they are not necessarily as educational as those available from other websites, they are enjoyable and can help your toddler develop motor skills.
Examples of Baby TV games your toddler may enjoy playing include:
Pim and Pimba is a dress-up game featuring penguins. It lets toddlers enjoy "dressing up" the penguins in costumes.
Louie's World is a naming game, which lets toddlers choose from three different scenes and then click on items. One of the options is a farm, where toddlers click on animals who make noises and state their names.
One downside to the games on this site are that instructions, are not provided. However, they are fairly easy to figure out.
Sprout
Sprout has a wide range of games for young children, from educational activities to those designed just for fun. They also include games that let children interact virtually using their webcams.
Some of the best selections include:
Elmo: Elmo Rhymes is an educational game reminiscent of Elmo's World that allows children to match sounds based on what Dorothy, the goldfish, is thinking of.
Sprout: Sprout's Click 'n Color is a coloring game where toddlers can create custom pictures using their favorite Sprout characters. Players are able to select from a few simple backgrounds and then color them in.
Webcam games: Wave Along Adventure lets toddlers use their computer's webcam to wave away items that are falling.
While Sprout provides great games, many of the titles will require parents to help. This is especially the ones that require the webcam use.
Enjoying Games on the Web
These are just a few of the many available options for free online toddler games. Finding games that your toddler will enjoy is all about trial and error. Don't spend too much time on a game that doesn't hold your child's interest or frustrates her too much. Leave feedback for other parents if possible, then seek other options for you and your child to explore.